3N/4D
Riyadh Heritage Tour Package
Hotels

Meals

Sightseeing

Transfers
Day 1
Arrival to Riyadh
Your Tour leader/ Driver will be waiting you. They will be holding a sign of SaudiArabiaTours, You do not need to look for them – they will be waiting for you and will find you.
You will be transferred by an A/C car to your hotel. Overnight in Riyadh.
(Optional) Riyadh By Night Tour
Day 2
Riyadh Historical Tour
Breakfast. Start your tour visiting the National Museum of Saudi Arabia which has been established in 1419 as a significant part of the king Abdulaziz historical center in Riyadh. Very impressive and important museum about the entire Saudi history, Saudi royal family, the kingdom formation, and everything regarding the political context. you will be led to numerous antiques, manuscripts, and documents that are all chronologically organized. It includes eight main halls: Hall of Man and the Universe, Arab Kingdoms, Pre-Islamic Era, Prophet's Mission, First Saudi State, Unification of the Kingdom Hall & Hall of Hajj and Two Holy Mosques.
The museum includes interesting examples of Arabian and Islamic art as well as architecture.  The masterpieces include Prehistoric Elephant Skeleton, huge meteor found in the Empty Quarter in Saudi Arabia desert, Rock Grafitti from Hejaz region backdate to pre Islamic era, Copy of Rosetta stone, an example of Madaian Salah Rock-cut tombs.
Then enjoy the National museum park walks through the outdoor gardens one of the best gardens you will visit in Saudi Arabia. King Abdulaziz's historical park is an open area that you can enjoy with your family. Then proceed to the Hall of King Abdulaziz where there is a showroom of old cars that were used by the king.
Then we will move to the next visit to Murraba palace is among the most important palace built by King Abdulaziz. This Palace was to accommodate his family. It was built on the local traditional Najid style by using local building material only. enjoy amazing photos here inside Murraba palace.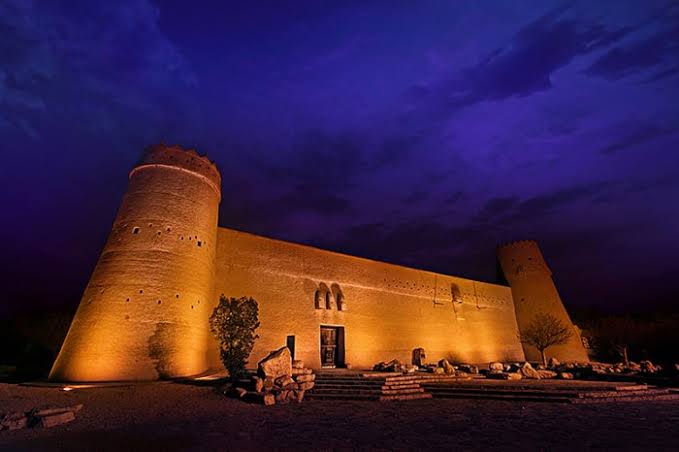 Then you will visit the Dira Souq traditional Saudi market which is famous for its variety of old copper and brass objects including silver daggers, silver Beduin's Jewelry and dresses. While entering from main access, one always smells sandalwood fragrance. Dira Souq is worth buying antique carpets and other useful Saudi heritage antiques.
Then visit the Al Masmak, Enjoy and step back in time and explore Saudi Arabia's roots. Fascinating exhibitions on display show maps and photographs of Saudi Arabia, alongside a range of historical artifacts, artworks and audiovisual attractions. A short documentary also re-enacts the capture of the fortress by King Abdul Aziz, whose spearhead you can still see embedded in its wooden gate.
(Optional) Riyadh Red Sand Dunes Tour, Start at 5:00 am for approx. 4 hours included transfers.
(Optional ) Riyadh Food Tour, Start at 4:00 pm.
Day 3
Edge of The World Tour
Breakfast.Drive to Jebel Fihrayn popularly known as "the Edge of the World" is 120 Km from Riyadh. Standing atop the 1,000-foot high escarpment at Jabal Fihrayn, you find stretching before you an uninterrupted view of the horizon in all directions, leaving you with the impression that you are, indeed, standing at the very edge of the world. The effect on one's body and mind and soul is exhilarating.
These cliffs rise dramatically from the desert, stretching toward the sky like a great natural wall. When you stand atop them and look toward the horizon, you have a prime view of the sky as it seems to melt into the barren earth.
The Edge of the World (Jebel Fihrayn) is an unexpected and dramatic geological wonder in the rocky desert northwest of Riyadh, Saudi Arabia. The site earned its nickname because from atop the escarpment, you have an uninterrupted view of the horizon.
It's part of the much longer Tuwaiq Escarpment, and drops down 1,000 feet into an ancient ocean bed. While standing on the cliffs, you'll spot dried rivers weaving across the land, and see camels moving far below. These camels and their herders are following a well-trodden path, as an ancient caravan route once passed within its shadow.
(Optional) Ushaiqer Heritage Village Tour
Overnight in Riyadh.
Day 4
Riyadh - Departure
Breakfast. Your Tour leader/ Driver will transfer you to the airport and assist you at the airport through final departure formalities.
3 Nights hotel accommodation in Riyadh on bed and breakfast basis.
All transfers
All your tours and excursions are by an A/C vehicle.
English speaking tour leader/driver.
All your visits include entrance fees.
Our prices include all taxes and services.
International Airfare.
Saudi Arabia entry visa.(We can provide you with your visa upon arrival at your request).
Drinks and any personal expenses.
Tipping